Overthrown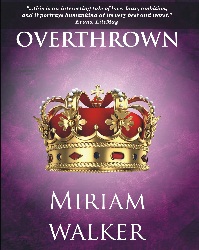 I closed my eyes and wanted to cry. Not only that I will never see my mother and Papa, I will never see Wami too because he had been taken as a slave by the warriors. I imagined him fighting fruitlessly with the warriors, trying to escape or trying to stop them from carrying me away.
"Does it mean I am now a slave?" I asked even though I knew what the reply would be.
"Yes," she replied, "you are."
Before her eyes, Oroma's world crumbled. Her village was invaded and she was taken away as a slave to an unknown land with no hope of ever seeing her family. Caught in a world torn by war, betrayals, slavery and uncertain love, the future looked bleak for her but this was not to be her end ... but the beginning of her destiny.

Visit the bookstores below to order your copy!
(1) EmmyClass Bookshop, No: 201 Uniport/Choba Road, Choba, Rivers State.
(2) Chapters Bookshop, No: 46 Ekenewon Street, Orazi, Port Harcourt, Rivers State.
(3) Terra Kulture Bookshop at Plot 1376, Tiamiyu Street, Off Ahmadu Bello Way, Victoria Island, Lagos State.