Inspirations of Chimromma Francis-Elelegu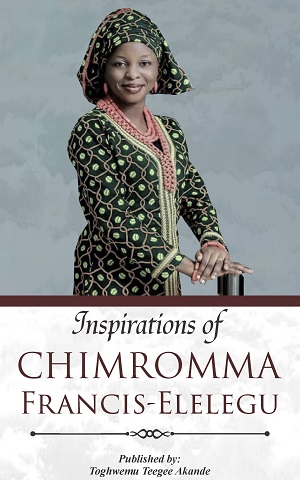 This book "Inspirations of Chimromma Francis-Elelegu", is a posthumous publication of Chimormma's write-ups on a social media platform called My Married Female Friends (MMFF). During the time Chimromma was a part of the group, the group studied various women of the Bible and Chimromma had the honour and privilege of facilitating some of the discussions on some of these women as well as sharing her thoughts on various discourse on the platform.
During the time I was grieving for my dearest friend Chimromma, it was divinely impressed upon my heart to have all her posts compiled and put into a book as I knew that was one of the desires of my friend before she transitioned to glory. This book is part of Chimromma's legacy to her children as well so that whenever they get to read their mother's thoughts on various issues discussed on MMFF.
The proceeds from the sale of this book will go towards the educational fund of Chimromma's three children.
- Teegee
Author: Chimromma Francis-Elelegu
BUY ON:
(1) Lulu
(2) Amazon