Evenfall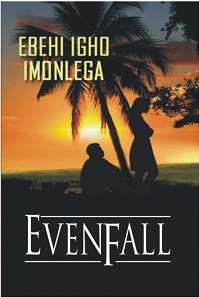 Evenfall centers on Omonye who sells her inherited property and sends her husband Lucky overseas, for better prospects. Overwhelmed by his wife's huge sacrifice, Lucky promises to remain faithful to her, regardless of the temptation he may encounter. His promise of unflinching fidelity is tested when for years, he is unable to have a breakthrough and return to his family as quickly as he had imagined. Soon, he is faced with the choice of deportation or a love affair with Aina, the daughter of an influential sheriff in the U.S.
Visit the bookstores below to order your copy!
(1) No: 1, Kenjones Bookshop (Mission Road), Benin.
(2) Eagles Education Center, (Off Mela Motel Road, Uselu), Benin.
(3) Goodman Bookshop (Opposite Uselu Market), Benin.